Two fun holidays are upon us friends, and together they become Cinco de Derby. Catchy, right? Both happen on May 5th. Because a fab fiesta needs a little more planning time, today's post is filled with marvelous Mexican fare. And of course, you'll find plenty of Margarita recipes, because I adore a good one. Don't you?
Now let's talk tacos, tequila, and tortillas!
HERE: 25 Ways To Say
Olé
Mixtli Chile Verde
From the tiny but influential San Antonio restaurant that serves up regional Mexican cuisine. It's the prettiest chili I ever saw!
Williams Sonoma
Tia Mia
I just can't resist a cocktail with a flower. Guess where it ends up? It's a Mezcal recipe, and something that I haven't tried. Ms. Shop This tells me that I am missing out. I understand it is smoky. Anyway, if you like a Mai Tai, I think that you will love this.
Food and Wine
Lobster Tacos with Green Onion
Cilantro Sauce
My pick of the roundup. It has a good deal of ingredients, but I am sure that it is so worth it!
Heather Christo
Sausage & Corn Chile Con Queso
Taco Ring
Does this not look like a party dish? It's
stuffed with a mixture of hot sausage, sweet corn, green chiles, cheddar cheese, and cream cheese. The result is a creamy, savory masterpiece with a little kick, but not too much for kids. Bring this to your next potluck.
Willow Bird Baking
Baked Plantain Chips & Garlicky Guacamole
This recipe has seven ingredients and takes only 30 minutes. I have tried making plantains only once. They were a disaster. This recipe makes me want to give it another go.
Minimalist Baker
Avocado and Lime Margarita
A boozy drink inspired by the guacamole and taking its cue from a Bloody Mary. Sounds fab!
Cook Republic
Tequila-Spiked Shrimp Ceviche
One of my favorite things. What's not to like about fresh and booze spiked shrimp?
Cookn' Canuck
Whole Roasted Chipotle Salsa Cauliflower
If you haven't roasted Cauliflower before, time to stop boiling and give it a try. For this recipe the author used
Chipotle Tomato Salsa and mixed it in with Greek yogurt, and then added a few seasonings for a bold
Mexican flavor.
Bakers Royale
Minty Mango Margarita Punch
Between the Grand Mariner, the salty chili sugar, and homemade mint syrup, this recipe has got to be fabulous!
How Sweet Eats
Mexican Cobb Salad
It's a complete meal with all of the Mexican feels. Top it all off with
a Cilantro Vinaigrette Dressing. How fresh!
What Gabby's Cooking
Vegan 7 Layer Mexican Dip
This is a party in a bowl! Layers of
Pico de Gallo, Black Beans, Corn, Guacamole, Vegan Sour Cream, Vegan Nacho Cheese Sauce and fresh, crisp lettuce. What's not to like?
Gluten Free Vegan Pantry
Skillet Chicken Tortilla Pie
Said to be super fast, this recipe involves
perfectly seasoned chicken layered with blankets of melted cheese, homemade tomato + onion + garlic + chili sauce, and sauce-soaked corn tortillas. Done and delicious!
Pinch of Yum
Chicken Ranch Nachos
Taco salad meets Nachos. The author states that the secret to this recipe is
Instead of baking the nachos with just chicken and cheese and then piling all the fresh ingredients on top after they're baked, "we went with an approach and loaded half of the fresh "salad" ingredients under the cheese layer." Sounds like a plan.
Yes To Yolks
Preseasoned Pig Molcajete
If you want to look authentic, make your guac in this. Crafted from volcanic rock, this droll molcajete is already seasoned and ready to use. The Mexican version of a mortar, it is used to grind, mix and serve. Now on sale at
Sur La Table
Roasted Tomato And Charred
Lime Guacamole
This looks amazing! Roasted anything is always better. And if you haven't tried grilling your limes, do so
immediately. You are in for a very juicy treat.
How Sweet Eats
Jalapeño Queso
Hello melty cheese! I love fundito so much I ordered it on my birthday. It was beyond good. This recipe is said to be "life changing." Need I say more?
Half Baked Harvest
Cinnamon Mousse Tarts
The shells are made with Mexican chocolate, the mousse filling is flavored with lots of cinnamon. And the author recommends adding a pinch of cayenne into the tart dough for a touch of heat. Sounds perfect to me.
Sugar Hero
Creamsicle Margartias
This margarita has the flavors of creamy oranges, tequila and lime. Just Yum!
The Blond Cook
Fried Avocado Tacos
Have you ever tried this? I just can't imagine this dish being bad. It's all topped with a
Serrano Cream Sauce.
Foodie Crush
Mexican Stuffed Peppers with Chipotle Sweet Potatoes
This recipe sure isn't pretty, but it does sound great! It's a one sheet pan prep, so that's easy. And those sweet potatoes are just how I like them, sweet and spicy.
Williams Sonoma
Churro Waffles
This recipe doubles as breakfast and dessert. Serve your waffles warm topped with butter, whipped cream and drizzled with maple syrup...or your choice of sweet toppings like chocolate sauce, Dulce de Lech, or ice cream.
Half Baked Harvest
Pineapple Strawberry Margaritas
A beautifully layered libation that is as pretty as it is tasty.
What She Said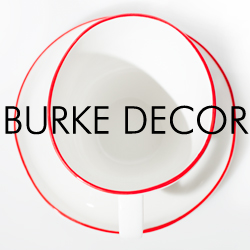 ~ You May Also Love ~
Foodie Friday: Fiesta Recipes & Cooks Tools