They are your best buds, and have had your back for a long time. Participating in a wedding party requires a commitment of time, money, and friendship. Your groomsmen deserve a thank you. Get inspired with this roundup of gifts that are both classic and classy.
HERE: 10 Ways To Say Thank You
Pop The Question
Before the bridal party gathers, you must ask the guys to be a part of your special day. This is a clever way to pop the question. Get all of the elements at
Mod Party
Silver Personalized Cufflinks
A sterling idea for your best buds. This company designs each gift to your specification, creating a custom gift for each guy.
Jubile Jewel
Personalized Sock Set
Get personal with a set of Supima cotton socks. Choose a message with a phrase of your choice, their initials, or full name. A great gift for a guy on any occasion.
Uncommon Goods
Give the guys a dignified way to to take the party on the go! Luxe leather is both classic and modern. Perfectly priced.
Goop
Mouth & Kings County Whiskey Set
Give a swig of New York's past. This exclusive set is handmade in small batches in Brooklyn. I
NSTYLE says...
"Everyone will appreciate this retro-inspired set. This exclusive lineup is the ultimate treat."
Carry On Cocktail Kit
Oh those boys! They do like to carry on, don't they? The set includes the ingredients for three classic cocktails, and the tools to mix them. A gift that gives new meaning to flying high!
AHALife
Save 25% and Get Free Shipping With Code: GIFT25
Leather Folders & Accessories
Anything but manila! Leather always makes a luxe gift. Personalize these folders & trays with initials or a phrase of your choice. Keep the boys organized long after the wedding bells ring.
Graphic Image
Boxed Bow Ties
These aren't just your garden variety bow ties. They are very special and handcrafted with sustainably sourced feathers in Charleston. The hand branded pine boxes make for the best presentation! They will have them forever.
Brackish Bow Ties
Leather Travel Accessories
The guys will know how much you care with personalized accessories for their travels. Especially nice for a destination wedding.
Horchow
Tom Dixon Barware
Everything in this collection celebrates the luxe life. It's eye-catching design is accented with copper detailing. Ships free from...
East Dane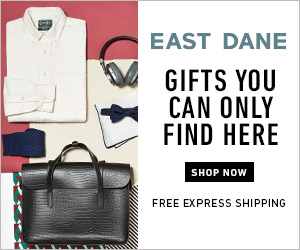 ~ You May Also Love ~
Wedding Wednesday: The Bridesmaid Gift Guide