A perfect Summer day for me includes a little R & R in the sun. I mean, who doesn't enjoy looking like they have been kissed by the sun? These days, however, I do try to protect my face. I don't need any more wrinkles. So what is a girl (or guy) to do? Fake it with bronzer. These products will enhance your natural tan, add a little radiance to your complexion, and do some clever contouring. With a little buffing on, you can transform your face and body from lackluster to luminous. Here's how.
HERE: 10 Ways To Fake A Tan
Highlighting Powders
If all you want is a little highlight, these are beautiful. And Bobbi's powders are so fine and lovely. It's a limited edition of stunning shades:
Sun Kissed Glow, Sunrise Glow, and Tawny Glow.
Bobbi Brown
Hoola Matt Bronzing Powder
With a cult following, even "Miss Shop This" loves her Hoola. It is completely shimmer free with a matte finish. Here's your beach in a box.
Benefit Cosmetics
Laura Geller Baked Body Frosting
Polish your skin to perfection. With buildable coverage, this pretty powder can be used wet or dry, depending on the luminosity you desire.
Nordstrom
Guerlain Terracotta
Guerlain's bronzing powder was the first brand that I tried. It is still my favorite. I am currently using the light powder in "blonds." It lasts forever.
Neiman Marcus
Instant Look In A Palette
Get an instant beautiful glow with this
makeup palette in rose-gold & bronze tones. A limited edition with an HD ready formula, so you'll always be ready for a photo shoot!
Charlotte Tilbury
Winner of Allure magazine's 'Best of Beauty' Award for Best Body Bronzer, 2016. This is a moisturizer not a self tanner, and it happens to have a subtle tropical scent. It's a lovely addition to already tanned legs and shoulders.
Sephora
Hourglass Cosmetics Ambient Lighting Bronzer
I am obsessed with this brand, after purchasing their blush and highlighter. This bronzer is next. It
fuses the illuminating effect of Ambient Lighting Powder and the depth and dimension of bronze pigments for natural, sun-kissed skin. It's so pretty.
Nordstrom
IT Cosmetics CC Anti-Aging Ombre Radiance Bronzer w/ Luxe Mega Fan Brush
A flawless, luxurious bronzer application to both the face and body! This is beautiful, and the brush is the best! It's part CC cream so it is color correcting, too. It is infused with silk, so the powder will not fall into your fine lines. I think I have to try this one.
QVC
bareMinerals Invisible Bronze & Glow with Brush
I really love bareMinerals products. And though I haven't tried this bronzer duo yet, I do have the brush. It is excellent! And this is quite the deal. The set is unbelievably well priced! Click to see a video presentation.
QVC
This collection is one of the most luxurious bronzing options. With a variety of colors and sizes, the formula is a combination of liquid and powder technology. Pick your perfect shade from velvet matte to golden shimmer.
Neiman Marcus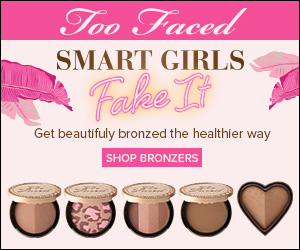 ~ You May Also Love ~
What's New In My Beauty Bag