Spring Break is just around the corner. Are you going somewhere? I have a little trip to NYC in the near future, and packing and bags are on my mind. Whether you go first class or coach, anyone can travel with style. Why not make a good first impression at the airport and hotel? It just may get you an upgrade!
HERE: 12 Chic Travel Companions
Bric's GlamLife
Because a girl should always sparkle! What a fun collection that also includes a larger piece to check. Practical and pretty in faux leather with real leather trim.
Neiman Marcus
Leather Luggage
Recently, I inspected the beautiful travel bags at Bendel's. They are so well made! The carryons are some of the most stylish I have seen anywhere. If style is important to you, I suggest that you start here.
Henri Bendel
Antler Atom & La Diva Tote
Here's a pretty pair. The luggage comes in two sizes, and is made with self reinforcing thermoplastic. It's lightweight, too. The La Diva handbags are good looking and faux but pretty darn fabulous. You'll like the price.
EBags
19 Degree Collection
Of course it is okay to mix metals, especially when traveling. A gorgeous collection of aluminum luggage from the travel pros at Tumi. I'll take the rose gold, please.
Tumi
Ted Baker London Inez Gem Gardens Two-Wheel Travel Bag
Generally speaking, I am not a flower girl. But these blossoms are beautiful, and have a certain look of elegance. Just the right size to tote all of your inflight necessities.
Nordstrom
Dwell Collection
With a motto of Live Beautifully, this company combines material and nature. They do not use leather or any other animal based materials. Their linings are made from 100% recycled plastic bottles. The result is a beautiful bag. We have owned these bags before and they are exceptional. See the collection at
Matt and Nat
Raden Smart Luggage
These bags will forever change the way you travel. Oprah might know a little something about travel, and she selected these for her Favorite Things list last year. Each piece comes with built in blue tooth technology. It will track and weigh your bag, and power up your devices. Amazing! See these pretty colors and also metallics at
Bloomingdale's
Vera Bradley Beach
Are you heading to the beach this Spring? Vera has all of the pieces that will make your day at the beach a breeze. That Beach tote? It's reversible and works well at the pool, too.
Vera Bradley
JOY Rich Leather Luggage
Joy Mangano makes more than spin mops and Huggable Hangers. This ensemble features a mobile dresser with SpinBall wheels, that keep up with you while you dash through the airport. And best yet, both pieces provide RFID protection to safeguard your passport and credit card information. Do click below to see the chic construction of this "dresser system", and the other nine leather colors.
HSN
Monogram Travel Bags & Totes
These affordable and adorable bags are perfect for your next road trip. Very giftable, and who can resist those tassels?
Neiman Marcus
Lightened Up Luggage
Fabulous florals bloom on beautiful bags that roll on with style! The Havana Rose pattern will take you to Cuba and beyond.
Vera Bradley
Lipault, one of the leading luggage brands in France, has put the fun back in travel. I just love the bright fashion colors, sophisticated shapes and ultra-lightweight design. Very chic and practical. Find the pretty pieces at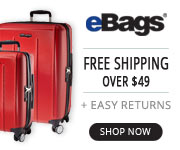 ~ You May Also Love ~
Keep Stylish And Carry On