With Summer's last holiday approaching, perhaps you have a flight ahead of you. Do you carry-on?
I wish that I could do it. Two pairs of my shoes and electric hair curlers and a carry-on is full.
As the designers at Vera Bradley say: "No baggage fees. No lost luggage. Traveling with a carry-on means traveling with ease." I do bow down to those that can fly light. Even so, I am always on the lookout for a chic bag for my in-flight essentials.
HERE: 12 Bags That Will Upgrade Your Next Flight
This stylish set you will you back a pretty penny, but it sure is handsome, isn't it? Crafted in leather, it's for the discerning traveller. The wheeled bag is called an International Carry On. Love it!
Tumi
Vivienne Westwood Leather Bag
How good looking! Give your flight travel outfit an upgrade with this chic carry-on. It's now marked down by 45%.
There is something about white leather that just screams Jetset. This rolling bag features plenty of pockets, a laptop compartment and more. Now on sale at
Bluefly
This bag is light in weight (only 6lbs) but heavy with style. I love the high shine. Now marked down by 63%.
Saks Off Fifth
I have long thought that the Gigi New York tote makes a perfect flight companion. The python embossed leather is luxe, but you can choose plain pebble grain, too. The accessories, especially that tassel pouch, will help you keep this bag organized.
Gigi New York
Palazzo Medusa duffel bag
I admit it. I can not resist a gold Medusa icon. This bag is a first class choice for the frequent flier - male or female.
Style with budget in mind. This bag is fabulous in fabric and vegan leather. Available in six stylish shades.
Sole Society
Samantha Brown Travel Collection
If you prefer to spend your money on adventures rather than luggage, this collection is for you. Designed by travel guru, Samantha Brown, it is all thoughtfully designed by an expert. The colors are fun, too!
These little Fendi Eyes will ward off all travel delays and mishaps. An expert pick for the most fashion forward traveller.
Kate Spade New Yorker Carry On
Leave it to Kate Spade New York to design luggage as colorful as her clothing collections. These are too much fun! You can earn a gift card up to $300 with qualifying purchases. Click for details, but hurry, deal ends 8/23.
Inspired by iconic American sportswear, this bag gets a sporty update. Also available in a denim blue leather.
Selected for its' unique design, this smooth rolling and lightweight case is certainly packed with style.
To be certain that you are Carry On Compliant, visit the Vera Bradley Carry-on luggage restriction Guide. It's very helpful and put together by airline.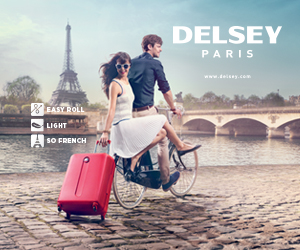 ~ You May Also Love ~
Road Trip: Do It With Style!