Today's modern bride does not always dream of a fairytale wedding. She often is a bit older, wiser, more practical, and sometimes even more sophisticated. Her engagement ring "wants" may surprise you. Instead of the "expected," she may prefer something that reflects her unique personality - strong, contemporary, and chic may win over classic. If this describes a woman you know or love, this post is for her!
HERE: 12 Rings As Unique As You
Kismet by Milka Zebra
I begin with a ring I love. This line of jewelry appeals to those with a sense of discovery. With both black and white pave diamonds, this piece is striped with style.
Neiman Marcus
Sara Weinstock Jewelry
The French lace Midi style sparkles in 18K gold with pave white diamonds. Who needs a single solitaire when you can have all of these? I love the geometric cutouts!
Barney's New York
Armenta Diamond and Sapphires
I just love this ring. It's luminous with 18K gold, glittering pear shaped white sapphires and round diamonds. And though it is indeed glam, it also has a touch of old world charm. It's also stackable and so wearable.
Hagit Colb 14K Gold
For the minimalist girl who loves art and architecture. I think I know someone who would just love this!
Hagit Colb Etsy
Antique Inspired Target Ring
This ring features rose cut Moissanite, black onyx, rose gold, rose cut diamond and even more. It's understated and bold at the same time.
Anueva at Etsy
Ippolita Movie Star Ring
18 K Gold with two bezel set diamonds. This ring is more about design than bling.
Bergdorf Goodman
Andre Benitah Creations Paris
Getting engaged IS a red letter day. This ring will never let you forget it. This is a wow!
Square Diamond
Super cool and minimal. This ring has a 17 point diamond. Much less than $1,000.
Oaka Titan
Uncut Diamond Engagement Ring
If you appreciate the natural order of things, this ring set is for you. The metal options are up to you, and each ring is made to order, making it one of a kind. Really unique.
Specimental at Etsy
Happy Spirit
Chopard's line of rings are super chic and unique. Pick a marvelous metal, 18K Rose, White, or Gold. The petite diamond moves!
Saks Fifth Avenue
Grey Umba Sapphire
This stunning stone is only found in the Umba Valley in Tanzania in Africa. I would say yes to this 14K gold ring which is less than $500.
Sarah Hood Jewelry
Gold Stacking Set
The artisan, Shiri Avda, created this ring with the thoughts of the exhilarated butterflies feeling we get when falling in love. What a lovely thought. This ring is petite and precious!
Shiri Avda Etsy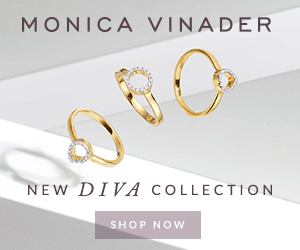 ~ You May Also Love ~
Say No To The Traditional Dress