These days, there is no need to sacrifice style for sustainability. Eco-friendly is now eco-chic. To celebrate 45 years of Earth Day, I have gathered some of my favorite finds that are either eco-friendly, recycled, or sustainable. All are echo-fabulous. Do take a moment to read the stories. These companies are trying to make a difference.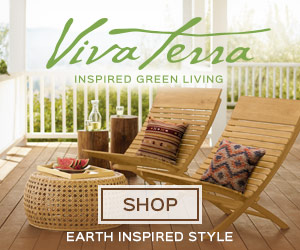 ~ Sustainable Shopping ~
Splash Seaglass Dinnerware
Make a splash at your next dinner party with this stunning seaglass set. "
Each piece is crafted with care of recycled glass in the USA and features a matte finish that won't smudge or show finger prints." So very lovely!
Vivaterra
Serena and Lily Paint Collection
In collaboration with Colorhouse,
a company known for their premium eco-friendly paints,
these 108 sensational shades are free of VOCs, chemical solvents, reproductive toxins, toxic fumes, and HAPS. A healthy choice for
your family and the planet.
Serena and Lily
Bend Goods & Gaurav Nanda's
Farmhouse Lounge Chair Drum Table
Made in Los Angeles of
Iron, a highly recyclable material. Scrap from iron can be reheated and forged again and again into a solid mass. Made for indoors or out. Click to see all of their designs.
A Plus R Store
Tegu's
Magnetic Block Sets
Talk about building a better world, one block at a time! These clever blocks foster creativity for those 3 - 103. Made from sustainably sourced wood. Magnets are safely embedded in each block. Non-toxic, non-lead water-based lacquer. The critically acclaimed line has won Parents Magazine Choice Silver Honor, Dr. Toy Winner - Best Green Product and Oppenheim Toy Portfolio Gold Seal - Best Toy Award, among other accolades. What a thoughtful gift!
A Plus R Store
A Peace Treaty Jewelry
I discovered these Deco designs via Elle Magazine. APT works with artisan workshops across ten countries. The people that hand make the designs would have much trouble finding work if it wasn't for founders Farah Malik and Dana Arbib. See a selection of these gems at
Saks Fifth Avenue
Juice Beauty Earth Day Bundle
Today is a great day to try Juice Beauty, with this fabulous value set of incredibly hydrating products.
Juice Beauty
A statement from Juice Beauty:
"We purchase the majority of our ingredients from local West Coast USDA Certified Organic farms so we can monitor the quality and limit fuel waste and then we manufacture the majority of our products with solar power. We believe staying local is better for our community and eco-system. We believe harnessing sustainable energy is better for our planet."
Oka B Shoes
Thanks to my dear friend, Barbara, Oka B shoes are a fave find! Chic and comfort usually do not go hand in hand except with these stylish sandals and ballet flats.
A shoe that's recyclable, waterproof, made in the USA and most styles are under $45. Color me happy.
Oka B
"At Oka-B, we pride ourselves on being an eco-friendly company practicing continuous loop recycling. Our low-waste factory in Buford, Georgia recycles everything from flip flops and sandals to boxes and other raw materials. We encourage all of our loyal consumers to recycle with us. It's so easy!" See site for details.
Esque Studio
I have been smitten with these artisans and their wonderful work for years. Their glass work is truly art, and makes for a fabulous gift. I appreciate their mission. They try to make sure every business decision makes a difference in usage and environmental impact. They produce zero Co2 emissions and run on sustainable wind power credits. Each week, approximately 100 pounds of excess glass is recycled. See a collection of their work at
AHALife
Organic Crib Mattress
I wish I was more conscious of the environment when I had my own baby. The idea of an organic mattress makes so much sense! This
mattress offers "comfortable, solid support that is built to last, and features a 250-coil innerspring assembly. It is covered with 100% certified organic cotton and eco-wool padding, which is hand-tufted between two layers of certified organic cotton fabric."
Serena and Lily
Nike Better World
I had no idea that Nike used recycled plastic bottles in making their superior performance gear. I already love my Nike gear, but I appreciate it more knowing the company's commitment to creating less waste in this world. Not to mention, I love their style!
Nike
WeWood Watches
I have always thought that these watches were very cool. And the mission behind each watch is the coolest. For each toxin-free, hypoallergenic WeWood watch sold, a new tree is planted in association with American Forests. These watches make a fab Father's Day or Grad gift.
WeWood
30% OFF the entire collection
Code: WWEarthDay
MZ Wallace & Food52 Market Tote
Shop locally, as much as you can.
It will reduce carbon costs and help make your local economy more vibrant and sustainable. And when it comes to your produce, it will taste better than store bought! This tote by famed handbag designer, MZ Wallace, allows to to go the nearest Farmers Market in style! Sold exclusively
at Food52
For every tote purchased, Food52 and MZ Wallace will donate $50 to the Edible Schoolyard Project and the Founding Edible Schoolyards
TOMS
I am seriously obsessed with my own TOMS. I want to be comfy but love a little fancy footwork, too. I wear the glitter style. But more than chic looks, I am impressed with the story. Their motto is: TOMS is a company that will match every pair of shoes purchased with a pair of new shoes given to a child in need. One for One. Now
TOMS Eyewear has evolved, and with every pair purchased, TOMS will help give sight to a person in need. One for One.
TOMS
Take 15% off select full-priced TOMS orders $75 or greater with Code GETREADY Ends: 4/26
~ ~ ~ ~ ~ ~
~ You May Also Enjoy ~
Spring Clean, Organize & Store With Style!