Today we celebrate National Rosé Day. Who wouldn't drink to that? I just like everything that goes with
Rosé - the color, the sayings, "Rosé All Day," Yes, Way Rosé," etc. So if you are coming to my place this Summer, you'll get invited back if you bring a bottle! Before you start celebrating, take a look at some cheers worthy links.
~ ~ ~ ~ ~
These Stemless Wine Glasses are just too cute at Shopbop.
This Statement Beach Throw at Zappos says it all - "Rosé All Day. "
Rosé All Day: The Essential Guide to Your New Favorite Wine. A lovely book and host gift when gifted with a bottle of
Rosé. Newly published and found at Amazon.
~ ~ ~ ~ ~
Loving this Pom Pom
Rosé All Day Hat at Etsy!
As seen in InStyle, Forbes, Allure & more, The
Rosé All Day Collection at Sugarfina feature the cutest Gummy Bears,
24K Gold Swizzle Sticks and more which
are infused with real Rosé! They are quite the guilty pleasure!
Wine.com calls
Rosé
"Sunshine in A Bottle." I've linked you up to their Top Rated
90
+
Rosé collection Here
~ ~ ~ ~ ~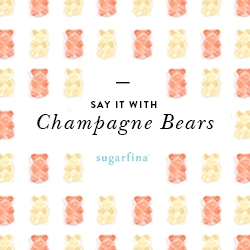 Here's to your weekend. And like the Countess, may your glass always be half full!
XOXO
Deb
Shop This