( Via: My Pinterst Board )
It is this time of year, following the Holidays, that I always think my home feels a little dreary. If you feel the same, a good place to start is your walls. What are they saying? If they aren't speaking to you, they aren't interesting to others either. It is possible to dress your walls by purchasing online. You just have to know where to look. Instagram is a good place to start looking for artists. That's where I found the terrific Tiffany La Belle. Her feed is very exciting. Art galleries can be a bit intimidating. There's none of that online. Here's an edit of wonderful ways to perk up your home and make those walls speak!
HERE: 14 Fab Finds That Make A Statement
Shagreen Round Wall Mirror
I love the texture and soft hues of shagreen. It is actually stingray hide, which is so exotic! The grand scale and texture of this mirror makes a stylish statement!
Williams Sonoma Home
Jungle Wallpaper Mural
Add a little imagination to the nursery, or a touch of whimsy to an entryway or powder room. I love this mural. It is both sophisticated and playful
Lulu & Georgia
Lanai Mirror
Add a touch of the islands to your space. Made of natural rattan.
Serena and Lily
For like Forever Print
As seen on the cover of Domino magazine, and a top selling product at Domino. You frame this one yourself, with love! And speaking of love, it makes a very special Valentine's Day gift to someone you heart!
Domino
Metallic Gold Wall Decals
Here's an inexpensive way to brighten any space. These dainty dots come in sets of 40 to 156. They are just so much fun!
Abak Design at Etsy
Blossoms Large Wall Mural
I am mesmerized by the talent of this Vancouver artist. This
120" x 120" mural is printed in six, 20" panels for easy installation. It sure makes a fabulous statement!
Ane Wall Decor at Etsy
Bethany Wall Mirror
Beautiful bone is inlaid to reflect your elegant good taste. Also available in beige bone.
Alchemy Fine Home
"Paris" Abstract Gliclee
Add some exuberance to your home with this modern take on
Joie de Vivre only at....
Neiman Marcus
Color Washed Round Mirrors
Created by Jamie Jaffe, who has long been inspired by the textures and colors of glass. These one of a kind mirrors have been hand distressed with an antique finish and a coat of chic color.
Anthropologie Home
Mosaic Mirror
Hand crafted from glossy tiles. This mirror reflects depth and artistry wherever you choose to hang it.
Serena and Lily
Hand Drawn Coffee Cup Decals
Coffee cups for my good friend, Buffy. She has the cutest coffee bar setup in her home. Use these wherever you enjoy your own cup of tea or coffee.
Iinky at Etsy
Audrey Hepburn as Holly Golightly
"From Breakfast at Tiffany's as she meets Paul's decorator friend for the first time." A limited edition glicee paper print by Australian artist and illustrator Tiffany La Belle. You will love all of her prints, cushions, and towels.
Tiffany LaBelle
Paris Prints & Posters
Because Paris is always a good idea! You will find over 25,000 Paris themed pieces of art to add a little romance and architecture to your home. Just type Paris into the search box.
Art.com
Marble Wallpaper by Piet Hein EEK
I am in love with this line. Slabs of marble on the wall are pricey. Get the look with this made to order paper.
Burke Decor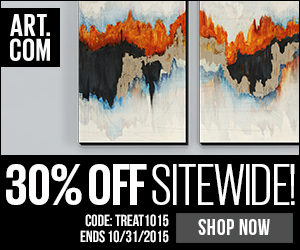 ~ You May Also Love ~
Spruce Up Your Home In The Color Of The Year: Greenery