Pretending and playing dress up is always fun, but at Halloween it is extra special. It's a time where imaginations run wild and creativity flows. Then of course, there is all of that candy. Here's a sweet selection of beyond cute costumes for all of your ghosts n' goblins.
Superhero Hat & Cape
Girls can be Superheroes, too! Please note: today is the last day to get this in time for Halloween.
Love Lane at Etsy
Harry Potter Gryffindor Cloak
For little sorcerers who want to make a dramatic entrance. A really great piece!
Toe Fishy at Etsy
This little guy is dressed for success. Head to toe adorable and made for newborns to 24 months. Dad will love his mini me.
Nordstrom
Endangered Black Rhino Costume
Send them into the wild this Halloween, and add a big dose of imagination to their holiday. Detailed to look like a real rhino, this is the sweetest scary costume I ever saw. Best yet, a portion of the sale of this costume benefits wildlife conservation.
Pottery Barn
Quilted Angel or Fairy Wings
How sweet are these? Your littlest angel will be flying high whenever he or she wears these wonderful wings.
Love Lane at Etsy
Little Firefighter Outfit
Cute as can be, and Kodak moment ready. This adorable knitted trouser and hat set makes an great gift.
Nordstrom
Bumble Bee Couture
Cute as a bug! Made with oodles of tulle, this made to order set is just too too cute!
Ella Boo Couture at Etsy
Siaomimi Play Witch Costume
This black and golden dress is so special, she will want to wear it every day.
Barneys
Baby Ghost
A boo-tiful little set for kiddos up to size 4T
Sweet and easy to wear.
Pottery Barn Kids
5 Piece Batman Set
From Little Eleven Paris is a set of accessories and cotton clothing that will be cozy for tiny heroes all year long. It's a darling gift idea for babies 3 - 12 months.
Alex and Alexa
Marshmallow Man
Beware: This outfit is so cute, everyone will want to poke your toddler in the tummy. It is said to be warm (like a sweatshirt) and comfy!
The Wishing Elephant at Etsy
Wizard Cloak, Magician Cape, Sorcerer Costume
Hand printed with eco-friendly ink, this cape has been hand made. It's very special and will make fairy tales come true.
Love Lane at Etsy
Astronaut Costume
Ready for take off and Halloween fun! Why not have them shoot for the moon and be the star this Halloween?
Pottery Barn Kids
Evil Queen Of Hearts
Crown her Queen of the day! Your little sweetheart will just love playing this role and getting away with it!
Target
Mother Daughter Pirate Costume Set
It's a Pirate's life for you and your little matey! This is a set of amazingly cute aprons, that will be fun to wear all year long.
Kitschn Whimsy
at Etsy
More Pirate Booty
These costumes for both girls and boys are really fun!
Main Street X
Mad Hatter Alice In Wonderland Apron
Perfect for Halloween and Tea Parties every day of the year.
Queen Elizabeth Aprons at Etsy
White Sequined LED Light-Up Gloves
Sometimes all you need is one great item to conjure up the perfect costume. These are fun. Can I have a show of hands?
Hearthsong
Initial Superhero Capes
For little heroes of all sizes and genders. The designer's satin capes are super fun! Do look around the shop. There are capes in every color under the sun.
Pip and Bean at Etsy
Caterpillar Costume
If she loves the book, Hungry Hungry Caterpillar, she will understand how special this little tutu set is. It is just as sweet as it can be.
Sweetheart Tutus at Etsy
Glow In The Dark Baby Baby Sleepers
Scare away all of those monsters under the bed with a sweet selection of Halloween jammies. Sweet dreams are made of organic cotton PJ'S.
Hanna Andersson
Jedi Costume With Cloak
For the next generation of super fans! The quality and construction of this hand made to order design is just fabulous!
Abigails Hands at Etsy
~ ~ ~ ~ ~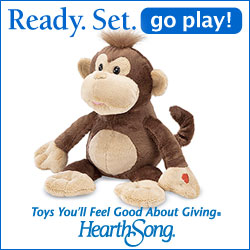 ~ You May Also Love ~
A New Year & New Arrivals: All Things Baby Chic