It's still warm, but Fall is around the corner, and I can't wait. But before we head inside, let's get ready to enjoy the great outdoors for another couple of months. Autumn gatherings and warm welcomes for friends and family are easy with the right accessories. Sometimes all it takes is swapping our anchors for apples, adding a throw to a chair, or lighting a fire. Here's inspiration for outdoor fun this
Fall.
A Fabulous Summer Into Fall Table
Loving this simple yet rustic luxe look. Shop the elements below
Shop Terrain
Dining Table
Chairs
Linens
Pretty picnics! Dress up a paper plate outdoors with these fabulous rustic chargers. Then bring them inside for Thanksgiving!
Horchow
Fire Urns
Be unique. Many people have a firepit, but these are different. Light up the patio or pool on Autumn evenings with these really good looking sources of heat and light.
Neiman Marcus
Autumn Alfresco
Enjoy a stylish sunset supper with the right candle light, seasonless chic chairs, and a sexy sheepskin throw.
Serena and Lily
Sheepskin Throw, Riviera Chairs, Palais Footed Hurricanes
It's time to put away the nautical themed servingware. Make a seasonal switch with metal. These are food safe and Autumn appropriate. Spiked cider anyone?
Pottery Barn
Tabletop Log Base Fire Pit
Hand forged and rustic, this is actually a set with a poker, and a lid that turns the pit into a patio table. You have to love the fabulous form and function of this piece.
Shop Terrain
Leaves Glimmer String Lights
Set the scene even before the leaves change. Light up the Autumn night sky with these LED lights on trees, in your centerpiece, around the patio umbrella, planters and more.
Pier One Imports
Waiting On Martha Block Party
This is a good thing. Throw an end of Summer block party and have a special spot for the kiddos. The peeps at Waiting on Martha did an adorable spread with Pottery Barn. Shop
the look below
Mini Gingham Armchairs
Brightly Colored Pillows
Teepee
or
This Teepee
Bean Bag Chairs
Spindle Play Chairs
Set of Birch Covered Zinc Vases
When outside, what's better than Mother Nature's own decor? This set of three will add a touch of Fall to your outdoor dining table. Fabulous for an Autumn wedding.
Kit and Caboodle at Etsy
A Gathering Of Kindred Spirits
The next two months are made for Upstate New York. I think you will enjoy this outdoor party of kindred spirits on the Hudson. The recipes and photos are fab! I just love when someone takes the time to make even a casual event special. Shop The Look....
West Elm
Apple Crates
Textured Serving Bowls
Decanters with Wooden Stoppers
Gold Flatware
Celebration SeaGlass Dinnerware Collection
I have had my eye on this set for a long time. Why not dress up the picnic table? Make your guests feel special inside or outdoors.
What's even better is that each is sustainably made in the USA of recycled materials.
Viva Terra
Roasted Grape and Burrata Pizza with Rosemary
Kick off Fall with beautifully sweet fruit recipes like this grilled pizza!
One Kings Lane
Leopard Print Folding Chair
Faux fur and fabulous! For picnicking in the park, tailgating or watching a soccer game. These chic seats guarantee a wild time. Found only at
Neiman Marcus
Woven Market Backpack
Get outside. Go to the Farmer's Market, pick some flowers, have a picnic or head to the beach. You'll be the talk of the town with this wonderful woven palm leaf backpack. It frees your arms for holding hands, walking the pup, or carrying your child. Gorgeously genius.
Food52
~ ~ ~ ~ ~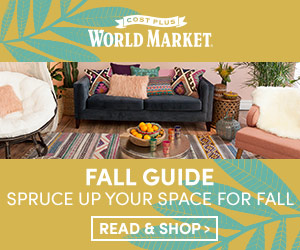 ~ You May Also Love ~
End Of Summer Hostess Gifts