(Via Etsy)
Today we thank and celebrate all of our Veterans, including my own marine, "Mr. Shop This." Their dedication and duty often go unnoticed. I am thankful for their efforts in making our world a safer place. Not to be ignored, we should all be thankful for the fashion inspiration they have provided. Military Greens and perfectly padded shoulders have made it to the runways, again, for Fall. These trends along with a classic trench and double rows of shiny buttons, never seem to to out of style. So in honor of our vets, here's a fashionable nod to military style!
HERE: 15 Fab Finds
Vintage Chloe This Means War Jacket
This jacket will become one lucky gal's fashion uniform. It's a fab find.
Nasty Gal
Isabel Marant
Arnie Boots
Aren't these great? They are almost sold out but I found a good choice of sizes at
SSENSE
This chic cashmere blend coat exudes military polish! I have featured it before, but now it is even a better buy at 33% off.
Nordstrom
Portolano Camo Print Pashmina
Camo chic in cashmere. Now on sale at
Bluefly
Military Melton Coat
I am so loving the style! The reversible white leather belt is so unique, but so on step with the season's black & white trend. It's expensive, but worth it.
Luisa Via Roma
Current Elliot
Current Elliot Mid Rise Skinny Jeans
Not exactly army regulation, but they sure look good with those pumps!
ASOS
Structured Washed Blazer
The perfect jean jacket! This structured blazer features bronze buttons.
Free People
KNO & GWW Bernhard Willhelm Polish Set
Military look? Nail it with flying colors and Uslu Airlines good for you polish. "(KNO) is a pearled olive green, gold, inspired by the winter sun glimmering over the Knokke/Het Zoute Airport in Belgium. (GWW) is a metallic teal inspired by the Royal Air Force Gatow, a former military airport base no longer in operation."
AHAlife
Off Duty Lieutenant Hat
No more bad hair days with this all cotton hat from Greece. Available in four fun colors.
Free People
Tumi Tegra-Lite Large Trip Packing Case
Travel military style. Lightweight, sturdy and on sale until 11/15.
Bloomingdale's
This coat has style for miles. The padded shoulders and mirrored buttons are perfectly polished details.
Shopbop
Military Wool Trench
Forever a classic, the military trench is never going out of style. Available in chic camel.
Oasis
Streamlined and polished, this is a perfect pick for getting the look in an understated way.
Gap Kids Peanuts Collection
For high flying kids. A unisex collection inspired by the new Peanuts Movie and everyone's fave puppy pilot, Snoopy. Available for toddlers 18 months- 5 years.
Fido thinks he is a Military man already, he might as well look the part. Too cute!
~ ~ ~ ~ ~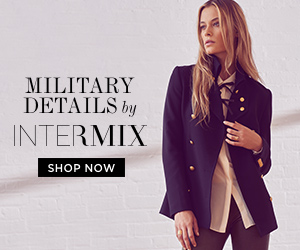 ~ Veteran's Day Sales ~
Henri Bendel
Get $100 off every $400 you spend or get $50 off your $250+ purchase. Ends 11/15. And shop a Private Sale with up to 50% off regular prices. It's a good one!
Bloomingdale's
Save 25% In The Singles Day Shop. Ends 11/15 Code: SINGLES
Bloomingdales
25% Off For Friends and Family. Some Exlusions. Code: HOLIDAY Ends 11/15
Neiman Marcus
Up to $100 OFF your qualifying regular-price purchase using Code: NOVSAVE
Spend $200 Save $50. Spend $400 Save $100 Ends tonight.
Saks Fifth Avenue
$50 off a $250 purchase. $100 off a $450 purchase, $175 off a $700 purchase, $275 off a $1000 purchase. Code: SAKS81 Excludes Beauty and Fragrance and some designers. Ends 10/11
Shop the Juice Beauty Friends and Family Sale, Nov. 10-12! Save 20% + FREE Ground Shipping. Code: FF2015 at checkout
Take an Extra 35% Off Sale Styles. Code: EXTRA35 Ends 11/12 Wonderful gift ideas!
Take up to an additional 40% Off Clearance and Get Free Shipping. Be sure to look at the candles on sale.
They have a preview of some Black Friday deals that are available today! Also, FitBits are on sale
.
Check it out.
~ You May Also Enjoy ~
Coat Check!