The minute I saw Valentino's AD campaign, I knew I had to shop the trend. Black and white has always been my perfect palette. In the past, this chic color combo usually meant Spring. This year, the designers direct this bold look towards Fall.
HERE: Fall's Best in Black & White
Valentino Wool & Silk Dress
Bold and dramatic, I so love this look.
Nordstrom
High waist and high style!
Luisaviaroma
Look #9 Of Shopping With Garance Dore
French photographer, illustrator, writer and fashion blogger based in New York, has picked her fave looks of the season. I agree. This complete outfit is super chic. The Valentino dress is divine and those Francesco Russo pumps are fab. If only I could rock a heel that high. See all of the pieces at
Matches Fashion
Valentino Tulle & Crepe Dress
Back in the day, this dress would have been mine if it wasn't so silly expensive. It's just so kicky!
Luisaviaroma
Nancy Gonzalez Crocodile Minaudiere
Apologies for the price tag on my favorite bag of the season. Hello, Santa?
Neiman Marcus
Stella McCartney Party Blouse
Love how black and white can be popped with a shot of bold color, like yellow. Shop The Blouse

here

and the

Stuart Weitzman Stud Shoes

Here
Saks Fifth Avenue
Kate Spade Novelty Watch
Bold and playful, this butterfly watch makes a statement in black and white.
Zappos Couture
Alexander McQueen Truth Poncho
I won't lie, I LOVE this entire outfit. It can only be found at
Neiman Marcus
Tome Plaid Sleeveless Coat
The sleeveless coat is still a trend this season. Great for the Fall months! Love how this bold print is paired with a flared pant leg for balance.
Forward By Elysse Walker
Rain Check Blanket Scarf
On trend? Check. Affordable? Check. A really good way to be in style without blowing the budget is with bold accessories.
Nasty Gal
Nicholas Kirkwood Mesh Bootie
Glam with a gleaming metallic heel. These boots are made for walking into my closet!
A Statement in Black and White
This is how Black House White Market makes a statement this Fall. One easy piece mixed with others.
Black House White Market
Winona Fur Combo Trench
Not for the sartorially shy. This coat adds some drama to your wardrobe, that's or sure.
Alice and Olivia
DKNY Turtleneck Dress
This is a very creative way to get the look. Take one white hot dress and pair it with what the designer is calling a pleated wrap. Together, the dress makes a big statement. See both pieces at..
DKNY
Ann Taylor Piped Tweed Jacket
If a new Chanel tweed jacket is not in your budget, try this one on for size. Available at a price point for all of us and in sizes petite, regular and tall.
Ann Taylor
~ ~ ~ ~ ~ ~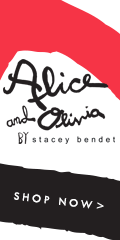 ~ You May Also Enjoy ~
Chunky Chic: The Block Heel For Fall 2015