Lately, I have become a homebody. Broken limbs have a way of doing that to you. The truth is, I never mind being home. My home is where my heart is. How about you? I enjoy the art of taking pleasure in ordinary everyday moments. Of course we can do that in our minds, but having some comforting material possessions, makes life at home even more joyful. So today let's
get lost in the throws of comfort. And do click on the photo above for the sweetest hostess gift ever. Let's get cozy!
Aren't these just the prettiest? They also are quite expensive, but can you really put a price on joy and comfort?
Horchow
Barefoot Dreams Chic Calypso Wrap
Boy do I need this! It feels like the iconic Barefoot Dreams Robe, but you could wear this almost anywhere. I personally, would blog better while being cozy in this wonderful wrap.
QVC
UGG Home Collection
If you want cozy for your feet or your home. here it is. Can I have everything in this photo?
Nordstrom
Calistoga Towels
A close up of this perfect pile proves that these are Serena & Lily's softest towels yet. Made from
Turkish Aegean cotton, these towels dry faster and have excellent absorbency.
A dreamy soft towel is certainly one of my comforts at home. How about you? They come in an assortment of chic colors.
Serena & Lily
LaCrosse Down & Primaloft Deluxe Comforter
Without a comfortable bed, there is little comfort at home. I have had my Company Store comforter (medium weight) for more years that I want to admit. It's the perfect loft, and has never been too heavy. I feel like Goldilocks - it is always just right for me. They are now on sale in a color for every decor. Plus take an extra 25% off sitewide. See website for details.
The Company Store
On My Mind Tall Sock
This is how you get cozy with a little sex appeal.
Free People
Journelle Garbo PJ'S
Just imagine your morning tea or coffee while lounging in this luxe set. Silk charmeuse drapes ever so softly over sleepy limbs. Everything is indulgent about this set, even the Japanese grosgrain ribbon. I love the Garbo glamour.
Journelle
Kate Spade New York Seaport Throw
I swear that you can't have too many throws in your home, as long as they blend with your decor. At this time of year, they are even great for outdoor use. You will love curling up with this super soft acrylic one for cozy nights in. Other bright colors available.
Kate Spade New York
Himalayan Salt Stone
Have you heard of the health benefits of Himalayan Salt? It is good for us inside and out. Google it and also click this link. Heat these stones and give yourself salt therapy at home. A comforting gift.
Soft Surroundings
Sheepskin Settee
If you couldn't get comfy on this stylish settee, then I need to take your temperature! There's time to save up for this chic couch. It ships January 2018.
Horchow
Nest Fragrances Sugar Cookie
Nest's newest scent, just in time for crisp Fall evenings.

Experience
warm flavors of Tahitian vanilla bean and bourbon-infuse caramel with delicate threads of sugarcane crystals and the rich essence of golden amber. Just one look and I am already comforted (and hungry). Aren't you?
Neiman Marcus
Ruby & Ed Velvet Slip On Shoes
I think there are two kinds of indoor people. Those that wear shoes at home, and those that don't. Even though my feet are always cold, I am one of those "no shoes" girls. But now that I have found this darling brand, I may be a convert. Look at the many other sweet styles by clicking the following link.
Amara
I sure could use this bench now. It is the perfect size to rest my broken leg on comfortably. It's also a lovely addition in the dressing room, the bathroom, or at the end of the bed. Love!
Lulu and Georgia
Worthen Sheepskin Bergere Chair
Yes, I have a thing for all things furry, faux or not. This one from Old Hickory Tannery is the real thing. Now light my fire!
Neiman Marcus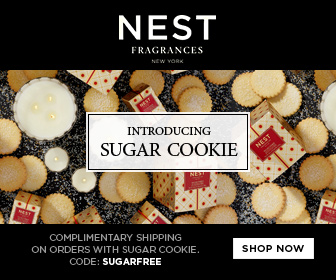 ~ You May Also Love ~
Bring The Outside In: The Scents Of Fall